Premium Series Full Length Compostable Knife
Premium Series Full Length Compostable Knife
Characteristics:
◎ Made from PLA, Renewable & Sustainable Resources
◎ End Products - CO2,H2O, Toxic-free Biomass which can support plant growth
◎ Strong & Sturdy, Sleek & Stylish
◎ Heat Resistance Up to 90℃/194℉, Cold Food & Hot Food Friendly
◎Up for any Occasions: Restaurant, Take-Outs, Catering, Hospitality, Fast Food Outlets, Healthcare, Inflight Catering, Cafeteria, School Canteen, Major Events, Community Activity, Family Gathering, Party, etc.
T / T, Deposito del 30% + 70% Saldo contro la copia di B / L.
:
Spedizione FCL:
2.
Via mare / Via aerea / tramite corriere
1. Colori personalizzati disponibili per l'intera linea di prodotti.
3. Forte capacità di ricerca e sviluppo, in grado di progettare internamente
◎ Rispettare gli standard di compostezza specifici per diversi mercati:
- Mercato nordamericano: ASTM D6400
- Mercato europeo: EN13432- Mercato australiano: AS4736-2006
◎ Compostabile BPI, Din Certco e ABA◎ Compostabile nell'impianto di compostaggio industriale entro 180 giorni
◎ Prodotti finali - CO2,
HO, biomassa esente da sostanze tossiche che può sostenere la crescita delle piante
Color: Ivory
Certification: BPI, Din Certco, AS4736, FDA, EU 10 / 2011
Pack Info
Case Pack: 1,000 pcs / 50 pcs × 20
Case Dimension: 34.0 × 20.0 × 19.0 cm
Case Weight: 5.4 kg / 11.90 lbs
MOQ: 200,000pcs/item
Retail Packaging:
1. Inner Pack: Non-Printing Poly Bag with Label, Printing OPP Bag with Euro-hole Hanger, etc.
2. Inner Box: Display Box with Tear-Off Lid, Shelf-Ready Box, Display Box with Lid & Base, Printed Paper Box with See-through Window, etc.
* Retail Packaging Tailoring to Customer's Requirements.
Lead Time:
Our lead time is about 25-35 days after order confirmed and deposit payment received.
Standard Payment Terms:
T/T, 30% Deposit + 70% Balance against the Copy of B/L.
Transportation Methods:
1. FCL Shipment: By Sea
2. LCL Shipment: By Sea / By Air / By Courier Service
Custom Solutions:
1. Custom Colors Available for the Entire Product Line.
2. Custom Design for Cutlery is Acceptable.
3. Strong R & D Capacity, Capable of In-House Design
Life Cycle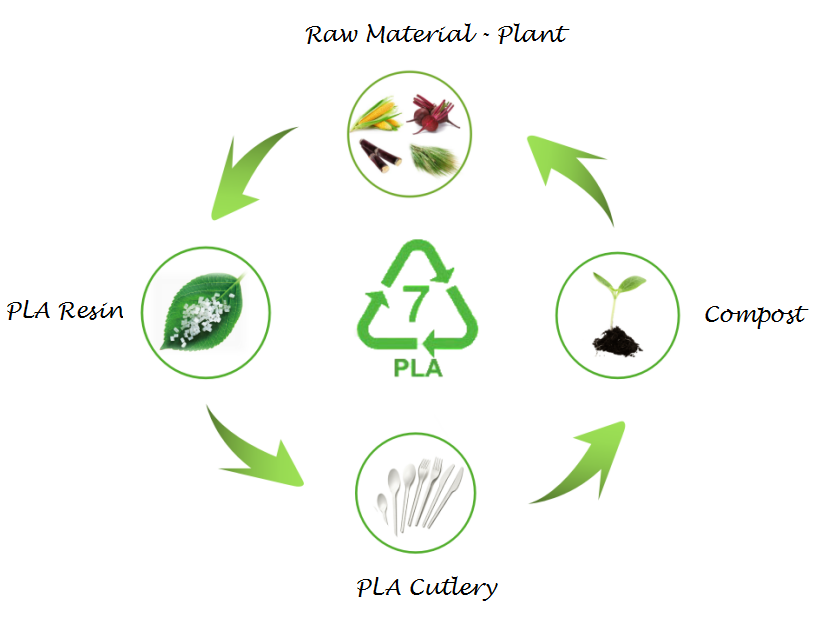 ◎ Comply with Specific Compostability Standards for Different Markets:
- North American Market: ASTM D6400
- European Market: EN13432
- Australian Market: AS4736-2006
◎ BPI, Din Certco & ABA Certified Compostable
◎ Compostable in Industrial Composting Facility within 180 Days
◎ End Products - CO2,H2O, Toxic-free Biomass which can support plant growth
Trasporto